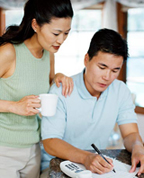 Our Senior Financial Advisor, Chad Kunihisa and his team are committed to providing members exceptional personal service and expert investment advice.  Call us at 531-3711 to schedule a free consultation.
This article explores ways to enjoy a relatively inexpensive outdoor vacation.

While economic forecasts for 2014 are encouraging, there are factors to watch in the months ahead.

More than half of small-business owners and CEOs surveyed in 2013 said they were planning to hire new workers in 2014.

From time to time businesses may want to revisit whether the current organizational structure is meeting its needs.