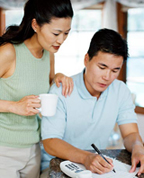 Our Senior Financial Advisor, Chad Kunihisa and his team are committed to providing members exceptional personal service and expert investment advice.  Call us at 531-3711 to schedule a free consultation.
How much Disability Income Insurance do you need?

How much would your monthly lease payment be?

Determine whether you should consider refinancing your mortgage.

How Long Will Your Funds Last?